---
---

1305 Goff St
Eads, CO 81036
719.438.5521
---

1305 Goff St
Eads, CO 81036
719.438.5421
---

1305 Goff St
Eads, CO 81036
719.438.5810
---

1305 Goff St
Eads, CO 81036
---

1307 Maine St.
Eads CO 81036
719.438.5541
---

1309 Maine St
Eads CO 81036
719.438.5782
---

1305 Goff St
Eads, CO 81036
719.438.5411
---

1305 Goff St
Eads, CO 81036
719.438.5831
---

---

Kiowa County Historic Preservation Commission
---

1305 Goff St
Eads, CO 81036
Phone: 719.438.5581
---
---
Kiowa County Public Health
1309 Maine Street
719-438-5782
---
---
---
---
---
---
---
&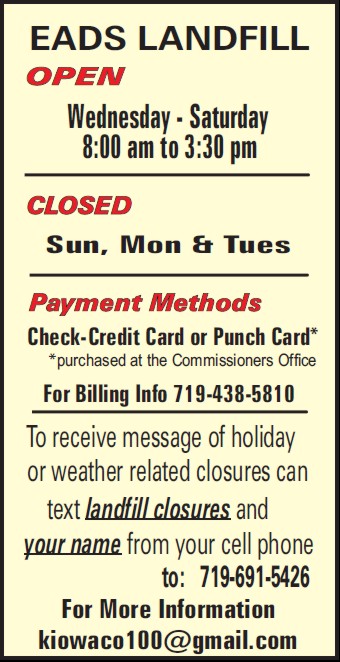 ---
---
Towner
Sand Creek Massacre National Historic Site
Welcome to Kiowa County-Colorado

Kiowa County was created on April 11 1889, taking its name for the Kiowa Indians, is located on the eastern edge of Colorado. To the north borders Cheyenne Co, west is Lincoln Co and Crowley Co, Otero Co, Bent Co and Prowers Co on the south. Kiowa Co shares the east border with the state of Kansas.
KiowaCounty-Colorado.com on Facebook
---
---
Kiowa County Government Offices Schedule
ü

The Public Health and Social Services offices: 8:00 a.m. to 4:30 p.m. Monday – Friday
ü

Kiowa County Commissioners Meeting 9:00am - 719-438-5810

kiowaco100@gmail.com
ü

Kiowa County Clerk & Recorder Only Kiowa County & Cheyenne County Residents Only DD-214 or Active Military ID must be presented at time of renewal for Military Insignia to be placed on license. MVR reports Available If you need assistance with voter registration please visit

govote@colorado.gov

or call and we can assist you. 719-438-5421

delisa.weeks@state.co.us
ü

Kiowa County Treasurer – 719-438-5831

kiowacotreas247@gmail.com

open to the public from 8:00 a.m. - 4:30 p.m. Monday thru Friday. our present safety precautions: hand sanitizer, mask, social distancing at 6',- limiting the number of people in an office. Mail your tax payments to Kiowa County Treasurer, PO Box 247, Eads, CO 81036. You can also make a credit card payment by calling our office or go to

https://client.pointand pay.net/web/kiowacountytreasurerco
ü

Kiowa County Sheriff 719-438-5411 -

dderby@kiowasheriff.net

-

csheridan@kiowasheriff.net

regular business hours Mon-Fri from 8:00 – 4:30. You may call our number anytime If not in the office call will route to the Bent County Dispatch. If you have an emergency call 911
ü

Kiowa County Courts-The courts are still closed to in person appearances in court or at the counter except for contested hearings. We are allowing in court appearances for normal docket days up to 10 people in the courtroom at a to appear via webex. All defendants should call the court for information on how to appear virtually.
ü

Kiowa County Emergency Management – 719-438-2288

sengelhardtoem@gmail.com
ü

Town of Eads open regular Hours Can use drop boxes or pay with debit card by phone 719-438-5590 Fax: 719-438-5652

townofeads10@gmail.com

Town of Eads- PO Box 8-Eads, CO 81036
---
---

---


Application for Employment in Kiowa County
---
---
---
---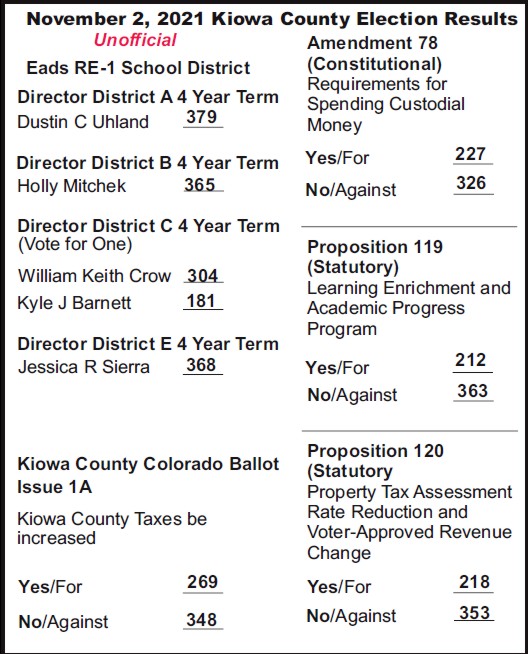 ---
---