---
Kiowa County Commissioners
PO Box 100
Eads, CO 81036
Phone: 719.438.5810
---
Kiowa County Commissioners Named Parks Southeast Region Partner of the Year
---
---
---
---
---
---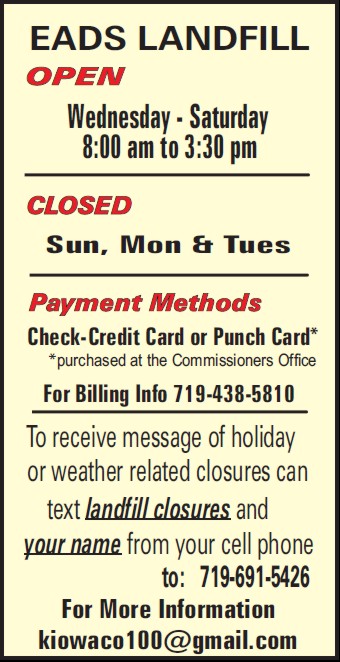 ---
---

---
---
---
&
---
KIOWA COUNTY RESIDENTS
BEFORE CONDUCTING ANY CONTROLLED BURNS YOU MUST APPLY FOR A BURN PERMIT AT THE KIOWA COUNTY COMMISSIONERS OFFICE. FOR MORE INFORMATION CALL 719-438-5810.
ONCE A PERMIT IS ACQUIRED AND PRIOR TO EACH PERMITTED BURN YOU MUST NOTIFY THE KIOWA COUNTY SHERIFF'S OFFICE AT 719-438-5411.
BURNING OF UNTREATED, NATURAL WOOD, LEAVES, DRY PRAIRIE GRASS/WEEDS IS ALLOWED. NO OTHER WASTE ITEMS MAY BE BURNED.
IF A FIRE STARTED ON YOUR PROPERTY GETS OUT OF CONTROL YOU ARE LIABLE FOR DAMAGE TO OTHER PROPERTY.
---
Welcome to the Kiowa County Commissioners page
Kiowa County Commissioners
Kiowa County Courthouse
1305 Goff Street
PO Box 100
Eads, CO 81036
Phone: 719-438-5810/5818
FAX: 719-438-5615
E-mail: Kiowaco100@gmail.com
KiowaCounty-Colorado.com now has a Facebook page
Commissioner Meetings
APRIL 29, 2021

MEETING DATE

APPOINTMENTS:

9:00am Open meeting-vouchers-

9:30am

10:00am BOARD OF HEALTH

10:30am

11:00am Lisa Thomas – CMP Annual IGA

11:30am R&B Foremen & Maintenance – Planning & Update

LUNCH JJ's Restaurant

1:00pm Eunice Weber – Ambulance Service

1:30pm

2:00pm

2:30pm

3:00pm Fair Board

3:30pm

4:00pm

Opening of Meeting

Minutes of last meeting:

Approval vouchers:

Approval /Additions to Agenda

OLD BUSINESS:

Grant Updates

Landfill / Recycling Update

Lakes Update

COVID-19 Update

Ambulance Service

Planning & Zoning Update

Upcoming Meetings:

May 3 Community Corrections Meeting

May 4 GPR Meeting

May 12 RESADA

May 13 Commissioner Meeting

May 18 KCEDF

May 19 SAGE/SEBREA

May 26 SECED

May 27 Commissioner Meeting

NEW BUSINESS:

Veterans report / DSS Report / EM Report / Sheriff Report / Commissioners Report

SAGE, SEBREA, SCEDD, SECED, KCEDF, RESADA

Time Off Request Forms

New Hire Progress Report

CMP Annual IGA

Legislative Issues
Commissioners will recess

12 - 1 for lunch

4 day notice is preferred for posted agenda

Upcoming Meetings:

April 20 KCEDF

April 21 SAGE/SEBREA

April 28 SECED

April 29 Commissioner Meeting

May 3 Community Corrections Meeting

May 4 GPR Meeting

May 12 RESADA

May 13 Commissioner Meeting

E-mail: Kiowaco100@gmail.com

Howard "Butch" Robertson Oath of Office 2019

Donald Oswald Oath of Office 2021

Michael Lening Oath of Office 2021
Home | Up | About Kiowa County | Departments | Employment | Kiowa County Yellow Pages | Business | Photo Gallery | Kiowa County Links
---
---
Acceptable Waste List for Landfills
---
Planning & Zoning Regulation & Permits
---
---
---
Vouchers 2021
| | |
| --- | --- |
| January | July |
| February | August |
| March | September |
| April | October |
| May | November |
| June | December |
---
Previous years
---
---
ORDINANCE
---
Resolution Licensing & inspection Ambulance Service
---
---
---
---
---
---
---
---